Mobilize. Vocalize. Socialize.
The NeuroRehab Project was born out of years of helping people with balance and mobility problems.  Many of those individual's impairments were due to neurological diseases such as Parkinson's Disease, Multiple Sclerosis, Stroke, Brain Injury, ALS, Guillain-Barre' and others.  We have been providing skilled, personalized physical therapy to these individuals at ORA for 15 years.  While our patients have been happy with the care they received, we knew there was more we could do for them.  We created The NeuroRehab Project to delve deeper into what we could do to help people for a lifetime.
Benefits
Along with skilled Physical Therapy we have added Speech Therapy which our patients have found to be life-changing.  They can now communicate with friends or family better than they knew possible.
Additionally, we are teaching group exercise classes for individuals with Parkinson's Disease and for people with Multiple Sclerosis.  These classes are taught by skilled professionals aimed at increasing function, balance, strength, mobility as well as creating a community where individuals can participate with a group of people dealing with many of the same challenges.  We are also offering a speech group where participants can come together and practice what they have learned in focused one-on-one therapy, as well as, build a community of support.  We feel offering dynamic, progressive exercise classes and activities to complement Physical and Speech Therapy is key to continued progress.  As Therapists we know that when our patients leave the one-on-one care we provide them, it is hard to stay positive and motivated to continue the exercises and activities we had provided.  Our classes will help participants stay on target to always continue to improve.  Additionally, we will be offering education seminars aimed at common concerns that impact many people with neurological impairments.
We feel the best way to get started is with a thorough evaluation by our Physical and/or Speech Therapist.  While Colorado is a direct assess state, meaning you don't need a doctor to refer you, most insurance companies won't pay for Physical and Speech Therapy without an order/prescription from one.  For most people the best way to get started is to ask their doctor for an order for Physical and/or Speech Therapy with the diagnosis listed so we can be sure you see the Therapist that can best serve your needs.  Through the evaluation process we will determine if you would benefit from skilled therapy with our team and/or if you're ready to get started in one of our classes.  Please know this process is a team approach with YOU being the leader of your team.  ORA and The NeuroRehab Project have a singular goal to help YOU reach your goals.  We know those goals will change over time and we are here to help you and your family navigate.  Please contact us at 719-284-1560 or 719-368-8775 and we will be happy to answer your more specific questions.
We offer a variety of classes for individuals with Parkinson's Disease.
LOUD Crowd
LOUD Crowd is held at our Garden of the Gods clinic at 602 Elkton Dr, Suite 201. Class is designed for current or discharged patients from speech therapy services.
Please call Orthopedic Rehabilitation Associates at 719-284-1560 or 719-368-8775 if you have any questions.
Meet Our Team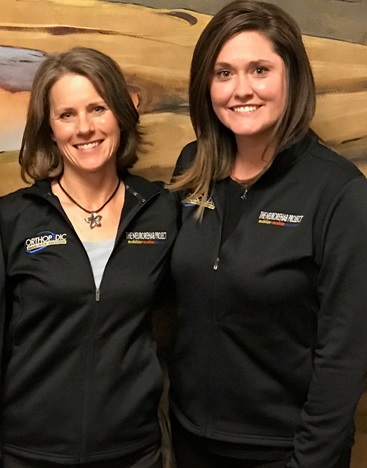 Meet our NeuroRehab Project Team:
Danielle Spivey, PT, MSPT   Rachel Johnson, MS, CCC-SLP
Danielle Spivey, PT, MSPT
Danielle is a Certified Vestibular Therapist holding a Master of Science degree in Physical Therapy from Regis University in Denver, Colorado, in 1999. Her research topic was on the reliability of the sensory organization on balance, which started her in the direction of vestibular rehabilitation. She passed the vestibular competency exam with Susan Herdman PT, PhD at Emory University in March of 2004.  She established the Balance Center at Orthopedic Rehabilitation Associates in Colorado Springs to focus her attention to providing compassionate one on one care to individuals with balance and mobility impairments from vestibular dysfunction and neurological diseases.  In addition to her work at Orthopedic Rehabilitation Associates, she instructs other physical therapists in the specialty of vestibular rehabilitation. In January of 2012, Danielle added another certification called LSVT BIG for the treatment of people with Parkinson's disease.  She is seeing amazing gains with this additional treatment approach. She prides herself by seeing each patient as an individual and helping them reach their fullest potential by providing Physical Therapy founded in science while having the compassion to see them as a whole person, not just a patient with a diagnosis.
Rachel Johnson, MS, CCC-SLP
Rachel Johnson graduated from the University of Wisconsin Eau Claire in 2008, with a Communication Sciences and Disorders degree with an emphasis in Speech Language Pathology. Rachel moved to Colorado Springs, Colorado in 2015 from Wisconsin. Rachel is passionate about working with individuals with Parkinson's disease and has been certified in LSVT LOUD since 2012.  Rachel has extensive experience working with children with developmental delays and adults with impairments in speech and language, cognition, and motor speech. Rachel is dedicated to providing compassionate and knowledgeable care to each patient and is committed to helping them reach their personal goals. Rachel has run community support groups, out-reach programs and exercise classes for individuals with Parkinson's disease. She wants to spread the word that "exercise" along with "laughter" can be effective medicine. Rachel enjoys camping with her husband, running with her amazing "pup" Shiloh, and spending time with family.
What to Expect
Every patient has a unique health history, diagnosis and personal goals.  When you come for your first appointment, we will create a personalized treatment plan for you.
We work with most major insurance providers and do our best to help keep the paperwork pain-free.  If you'd like to confirm your insurance coverage, please let us know and we can verify when you schedule.  If your insurance provider requires a co-pay, we will ask for this payment at each visit.  We accept payments by cash, check or credit card.
When to Arrive
On average, a patient's first visit lasts about an hour. We typically ask patients to arrive 15 minutes early to sign-in, complete paperwork and/or change clothes.
What to Bring
On your first visit, you'll need to bring your physician referral or prescription (if needed), your insurance card, your primary registration forms, your ID or driver's license and your co-payment (as applicable). If desired, you may bring a change of clothing.
How it Works
During your first visit, your physical therapist will do an initial evaluation and discuss your plan of care.  The therapist uses this information to set goals for your continued treatment.  Physical therapy goals may include improved movement, strength, endurance and flexibility, as well as decreased pain.  Your subsequent visits will focus on treatment that is based on your diagnosis and individualized goals.